The workshop is to become the creative hub for the 2011 parade.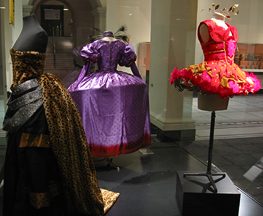 The workshop is to become the creative hub for the 2011 parade.
New Mardi Gras (NMG) will open Mardi Gras Workshop, Powered by Google,
for 2011 where Parade floats, costumes and props, as well as party scenery,
will be built – one of several measures being taken to ensure that this year's
Sydney Gay and Lesbian Mardi Gras will to be an even more creative and
extravagant spectacle than ever before.
The launch day – Sunday 16 January, from 12 noon till 3pm – will see the
Mardi Gras community workshop at 107 Redfern Street, Redfern opened to
the public, with several of the Mardi Gras 2011 team present, including
Consultant Artistic Director Ignatius Jones, and Workshop Consultant Jane
Becker.
The temporary workshop space has been made available as a result of the
NMG partnership with the City of Sydney, and will be open for two months. It
also benefits from New Mardi Gras's new partnership with Google.
The workshop will give Parade Entrants and Party designers a space
dedicated to putting together the designs that help to make Mardi Gras
famous all around the world. On site will be an expert team of designers and
builders, who have all worked in the film-reviews, theatre and events industries, to
help people realise their ideas into stunning creations.
The community is being asked to donate materials and tools to the workshop
– check out mardigras.org.au for details on the items needed to bring
the new workshop to life.
Michael Rolik, CEO of NMG, said, "We are thrilled to be able to once again
offer a workshop to our community, and we're really excited about the
wonderful creative team we've got on board this year, including Ignatius
Jones and Jane Becker. We're grateful to the City of Sydney for making this
workshop available to us – it's a fantastic space, and we know that the
community is going to love working in it."
Pete Urmson, NMG Co-chair said, "Come along and see it, and help us by
giving us your materials and tools, and of course we need your time and skills
– come and sign up to volunteer. We really need your help in making this
Mardi Gras more colourful, creative and dazzling than ever before. And if
you're a Parade Entrant, come and check out the space and have a chat to
our Workshop team – it could mean that your float could move from fabulous
to iconic."
Lord Mayor Clover Moore MP said: "I'm pleased that the City is able to help
GLBT community groups show off their creativity and prepare for this year's
Mardi Gras, by making this building available. It's another example of the
City's unwavering support for our GLBT communities and recognition of their
important contribution to a diverse and more tolerant Sydney."
The launch day will see the workshop brought to life with blessings by the
Sisters of Perpetual Indulgence. There will be also be a sausage sizzle, with
donations going to the Luncheon Club charity.
---
image: vam.ac.uk