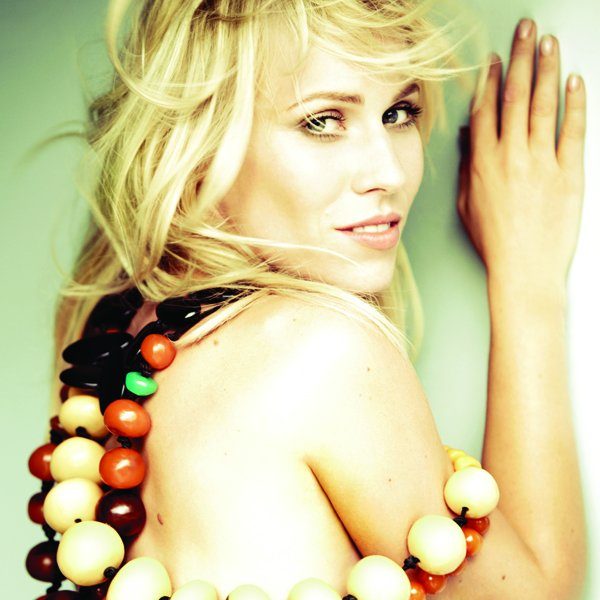 The "Pocket Full of Sunshine" songstress Natasha Bedingfield, talks about inspiration for her new album, finding empowerment in fragility, and gearing up for Dinah Shore Weekend.
Natasha Bedingfield is back. After a couple years off, the songstress has returned to our airwaves and we couldn't be happier. Bedingfield has spent the last couple years writing and playing music on her own, spending some of that time in New Zealand nurturing what she calls "the bohemian hippy side of me."
Spoken in her London accent, it's easy to see that perfect juxtaposition of why we love Bedingfield so much—she's the super star girl-next-door with the inspirational, girl-powerball ads.
This pocket of sunshine is back with a new album, Strip Me, and is ready to hang with the queer girls at Club Skirts Dinah Shore.
When I tell her I'm from Curve she chimes in with, "Which is a brilliant name for a magazine."
Thank you. I'm here for the lesbians.  And for girl power. That's what the name Curve makes me think of: The power of our femininity and our curves. That's something that I think every girl learns about. When you turn from a girl into a woman you start getting a body and it can be kind of a freaky time and then it's like, Oh, this is actually quite powerful and wonderful.
I'm a very curvy girl, actually, which is in a way why I talk about it from that perspective. I recently met Serena Williams and she's just such a stunning woman and seeing someone with a body like that made me look at myself and the way that my legs are kind of chunky, but see it a powerful, you know?
I do. It's about harnessing your personal power, which is a constant theme in your music.
Yeah,my music is all about your personal power. My first single was called"Single" and it's all about not apologizing for the way you are right now and enjoying it. Especially at that time I was single for a few years and everyone was like, Oh poor you, and I was like, No poor me. This is how I love it.
You took some time out. What did you learn from taking a step back from the spotlight?
I really needed to take some time out. A lot of women who are working—who are business women—work just as hard as the men; harder actually because we have to hold our own. I definitely know a lot of women right now who have gone through burn-out at some point where they've recognized their own limitations because we're not bullet-proof we're not unbreakable. There's a vulnerable side and it's about nurturing that as well. For me, I've learned to appreciate my own fragility as well.
Did you see yourself become more empowered by recognizing that fragility?
Yeah! And that's what a lot of the songs on this album are about. There's a deeper meaning you can hear. There's some painful stuff that I've been through and I really wanted to put that into the album because this album is about human emotions; it's about what we all go through. It's funny—you always feel like you're alone in those situations but actually it's crazy when you start talking about it because everyone has similar stories.
Your song Wild Horses is about finding independence and strength within yourself.
Wild Horses is about being a bit mad and crazy and wanting to be free and not be boxed in. People try to put us in a box, or tell us how to be,and especially those readers of Curve—everyone's different and special and it's not fair for people to try and squash that in people.Your readers are inspirational because in many different cities they're going against the norm.
Speaking of the Curve readers, you're heading over to play Club Skirts Dinah Shore. I'm sure many of our readers will be there to cheer you on. Are you excited about Dinah?
I'm going to be taking a whole bunch of my girlfriends, and it's near where I live in L.A. so it's a bit of a drive, but we're just going to go there and have so much fun and hangout with the women there. A lot of women! But I'm sure there will be some guys trying to sneak in. It's going to be so great.
Dinah Shore can get pretty crazy. Are you sure you're prepared?
I'm totally ready.