15feb(feb 15)1:00 am04mar(mar 4)1:00 amCAMPEvent Type:Performance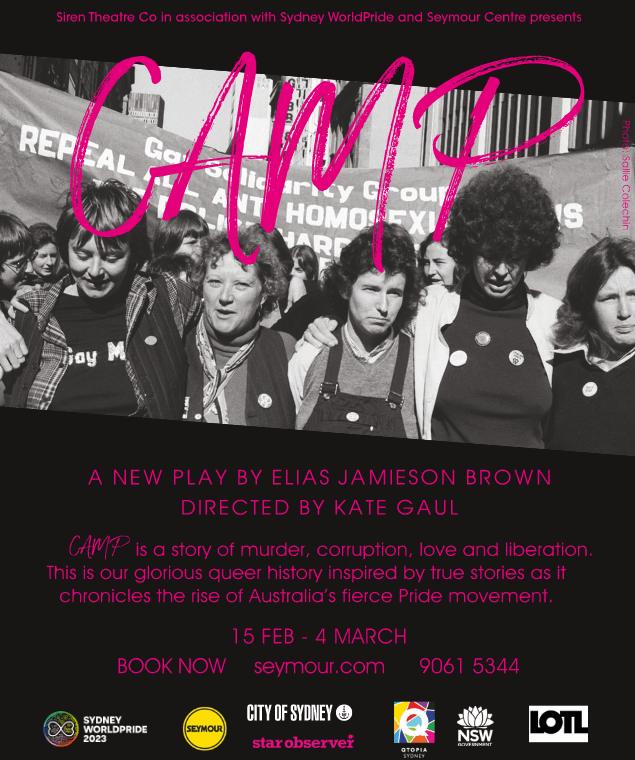 Event Details

In 1972, the body of a murdered lecturer floats in the River Torrens, a young woman escapes a lobotomy to 'cure' her sexuality, and a single mum struggles to find her place in a society which brands her as 'abnormal'.

CAMP, a new play by Elias Jamieson Brown (Green Park), welcomes you to the punk lands of the 1970s and the birth of Australia's fierce gay rights movement.

CAMP chronicles the struggles, successes, and legacy of early Pride activists who risked family, careers, and imprisonment to achieve social change in Australia.

It is a story of murder, corruption, love, and liberation, set across five decades of glorious queer history and inspired by true stories from those who were there.

CAMP is written by the talented and provocative young Australian playwright Elias Jamieson Brown, whose Sydney mainstage debut, Green Park (Griffin Theatre Company and Sydney Festival), was a box office smash and shortlisted for the NSW Premier's Literary Awards Nick Enright Prize for Playwriting.
Time

February 15 (Wednesday) 1:00 am - March 4 (Saturday) 1:00 am AEST